3D Gesture Sensor SKU: CQRPAJ7620U2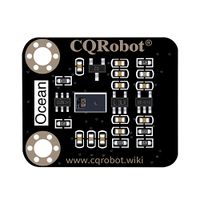 Description
CQRPAJ7620U2 is a 3D gesture recognition sensor with integrated PAJ7620U2 chip, PAJ7620U2 integrates the gesture recognition function and the universal I2C interface into one chip. It can recognize 9 gestures, including move up, move down, move left, move right, move forward, move backward, rotate clockwise, rotate counterclockwise, and waveform. These gesture information can be easily accessed through the I2C bus. PAJ7620U2 also provides built-in proximity detection for sensing objects approaching or leaving. PAJ7620U2 has great flexibility in power saving institutions. Compare with solutions like APDS-9960, this module is faster, more accurate, while recognising more gestures with higher anti-interference capability. It suits for low power applications such as smart home, robot interaction, etc.
---
Interface Description and Size
---
Features
Based on PAJ7620U2 sensor, directly recognises 9 basic gestures, supports gesture interrupt output
Embedded infrared LED and optical lens, be able to work in low-light even dark environment
I2C interface, requires only two signal pins to control
Onboard voltage translator, compatible with 3.3V/5V logic level
Comes with development resources and manual (examples for Raspberry Pi/Arduino/STM32)
---
Connection Diagram
---
Resources
---
Specifications
3D Gesture Sensor Specifications
Model: CQRPAJ7620U2
Operating Voltage: 3.3V/5V
Communication Interface: I2C
Recognition Distance: 5cm to 15cm
Supported Gestures: up, down, left, right, forward, backward, clockwise, anticlockwise, shake.
Recognition Rate: 240Hz
Recognition Angle: 60 Degree (diagonal)
Ambient Light Immunity: Less Than 100k Lux
Dimensions: 23.14mm * 27.76mm
Mounting Hole Size: 3.0mm
Ocean Interface Cable Specifications
Cable specifications: 22AWG
Material: Silicone
Withstand Voltage: Less Than 50V
Withstand Current: Less Than 1000MA
Length: 21cm
Line Sequence: Black-Negative Power Supply, Red-Positive Power Supply, Green-SDA, Blue-SDA, Yellow-INT.
---