Si1145 Ultraviolet Sensor SKU: CQRSENUV01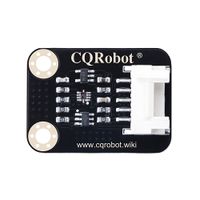 Description
This is a multi-functional optical measurement function module that mainly measures ultraviolet rays. The module has an onboard Si1145 sensor chip that can directly output an integer of 100 times the ultraviolet index. Users can obtain the ultraviolet index value without data conversion and calibration. The module also supports the measurement of ambient light intensity, including infrared intensity and visible light intensity.
NOTE: The output voltage of the UV sensor increases with the enhancement of the ultraviolet intensity. and the maximum output voltage of UV sensor is 2V to 3V. When the ultraviolet intensity is not strong, the output voltage may be in the range of 0.01-0.1V. It's recommended to test the module outdoor or irradiate the module with UV LED.
---
Interface Description and Size
---
Features
Integrates Si1145 chip with embedded ADC, detects not only ultraviolet, but also, Ambient light intensity.
Directly output UV index value via the I2C interface, needs no calculation.
Supports interrupt output, programmable upper/lower threshold.
Onboard voltage translator, compatible with 3.3V/5V operating voltages.
Compatible with Raspberry Pi/Arduino Motherboard.(examples for Raspberry Pi/Arduino)
---
Connection Diagram
---
Test Code
---
Specifications
Sensor Specifications
Operating Voltage: 3.3V to 5V
Dimension: 30mm * 22mm
Mounting Hole Size: 3.0mm
Operating temperature: –40 Degree Celsius to +85 Degree Celsius
Ocean Interface Wire Specifications
Cable specifications: 22AWG
Material: Silicone
Withstand Voltage: Less Than 50V
Withstand Current: Less Than 1000MA
Length: 21cm
Line Sequence: Black-Negative Power Supply, Red-Positive Power Supply, Green-SDA, Blue-SCL, Yellow-INT.
---